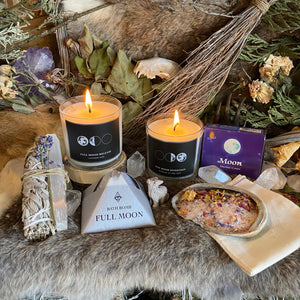 This is the ultimate Moon Ritual package honouring all phases of the moon! Each item and each step of moon ritual practice is clearly explained in the Phases of the Moon ritual booklet. 
CONTENTS 
New Moon Salt Soak with Quartz
Full Moon Bath Bomb
Full Moon 6oz soy candle
New Moon 6oz Soy Candle
Bundle with Selenite, Palo Santo, and Lavender
Soapstone Totem Animal
Incense
Ritual Booklet
This kit comes beautifully packaged in a gift box. Made in the United States of America.
Dimensions: 9 2/4" x 4 1/2", 3 lbs