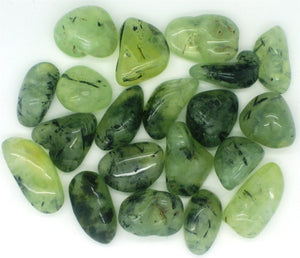 Properties: Epidote is a stone that increases whatever it touches. Prehnite boosts prophetic abilities, enhances visualization, spiritual "knowing," and aids in connecting with higher realms including your higher self as well as spiritual and extraterrestrial beings.
Chakras: Heart
Zodiac: Gemini
Planet: Venus, Earth
Element: Water, Earth
Quantity: 1 tumbled piece. 
Dimensions: Approximately 2cm H x 1.5cm W. Every one is unique and varies in shape, colour, and size.