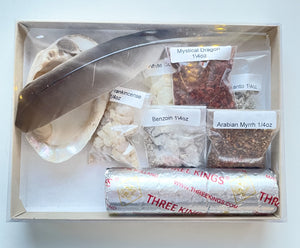 The Resin Incense Variety Kit includes a pack of charcoal tablets and 5 kinds of resin incense.
Resin incense has been used for purification, religious purposes, and heightening spiritual awareness. Plant resins are the dried sap of trees that contain the essence of the tree's spirit and energy.
How to use: place a few pieces of resin on top of charcoal and let burn. Use the feather to wave the smoke to clear yourself and the space. 
Set Includes:
5 kinds of resin - benzoin, mystical dragon, palo santo, Arabian myrrh and golden frankincense
A small abalone shell to burn them in
A package of charcoal
A turkey feather