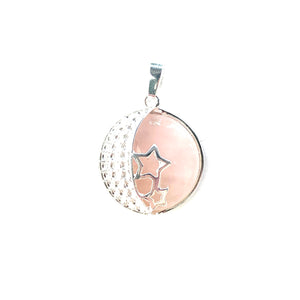 You'll love the way this Rose Quartz Star Pendant will help you stand out in a crowd and shine like a star.
Symbol: Stars can be a beacon of hope as well as shining lights that guide the way. They are symbols of positivity, happiness or renewal
Properties: Rose Quartz represents universal love. It is the stone of gentleness, love, romance, trust and harmony.
Chakras: Heart
Zodiac: Taurus & Libra
Planet: Venus
Element: Water & Earth
Quantity: 1 Rose Quartz Circle Pendent.
Dimensions: 2.4cm X 2.4cm