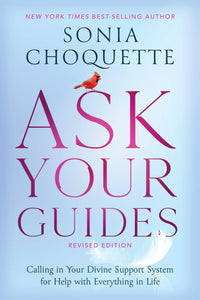 Ask Your Guides: Revised Edition
Regular price
$17.29
$0.00
Unit price
per
Connect with your spirit guides, heal your life and discover your purpose with this revised edition from New York Times bestseller Sonia Choquette, featuring new stories and channelled meditations.

We're all spiritual beings, with a spiritual support system on the Other Side that oversees and guides our lives from the moment we're born to the moment we leave our physical bodies. Some people call them guardian angels, others call them spirit guides or divine helpers. These spirits are everywhere, ready to assist us in our life's journey.

In this newly revised book, Sonia will show you how to:

* Develop trust in your inner guidance
* Invite guides into your heart and mind so you can accept their help
* Use practical tools and meditations to connect with your team of guides
* Recognize obstacles that may stand in your way to experiencing divine guidance

When we learn how to connect with our guides, our lives naturally fall into a pattern of ease and flow. You can learn how to grow your soul, fulfil your life's purpose and make your time on Earth endlessly entertaining.
Description:
Author: Sonia Choquette

 

Paperback | 336 pages

 

152 x 230 x 25mm | 500g

 

05 Jan 2021

 

London, United Kingdom

 

English

 

1788174941

 

9781788174947
---
Share this Product
---