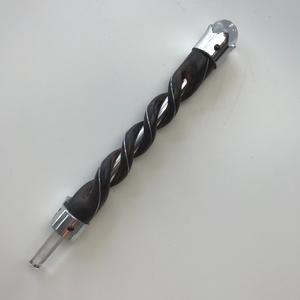 Crystal wands are an essential component of spiritual rituals aimed at cleansing and purification. Quartz ball at the base, rosewood twisted middle, topped with Quartz point stick.
Physical-

 

The scent of rosewood plays a huge part in the healing properties it displays, which is released and awakened more with age. Its scent is used for nervousness, headaches, and frigidity. It also helps to boost the immune system because it calms the individual. 
Spiritual- Associated with the heart chakra, rosewood is a compassionate and healing feminine energy; that doesn't mean that it's only for women! It just means it helps to accent the innate qualities of compassion and love within an individual. The feminine grace is enhanced when wearing rosewood, and intuitive health is also given a boost.
Quantity: 1 Rosewood Spiral wand with clear quartz.
Dimensions: 9 3/4" x 7/8"