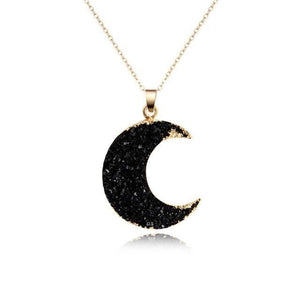 This beautiful black druzy necklace is shaped like a crescent moon. 
Druzy Crystal will purify and amplify your body's natural healing properties. It will also strengthen your spirit. It will provide the balance in your life to avoid depression or unnatural feelings of sadness, abandonment, or fear.

Included: Necklace and moon pendant.
Dimensions: 10"L, 11g. Every one is unique and varies in shape, colour, and size.