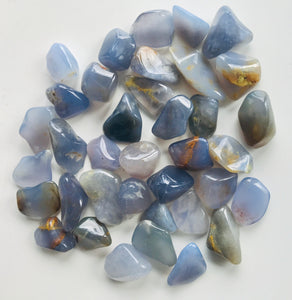 Properties: Motivation, Purification, PTSD, Physical Healing. Blue Chalcedony promotes peace, compassion, joy and reduces hostility and stress.
Chakras: Third Eye, Throat, Heart
Zodiac: Aries
Planet: Neptune
Element: Water 
Quantity: 1 tumbled piece. 
Dimensions: Approximately 4cm H x 3cm W. Every one is unique and varies in shape, colour, and size.