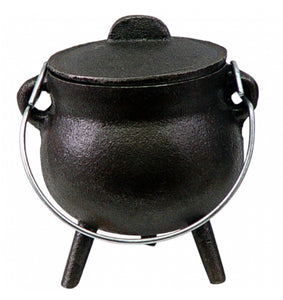 Cauldrons can be used to burn incense, resin, herbs, and candles.  They can also be used as an offering bowl or meditation or divination tool.  Cast iron cauldrons are exceptionally durable.
Typically cauldrons represents the element of Water on the altar. Cauldrons are feminine and womblike, the vessel in which life begins. 
Includes: Cast iron cauldron, lid and metal handle.
Dimensions:
Weight: 1.05 pounds
Height in Inches: 4
Diameter in Inches: 2.75