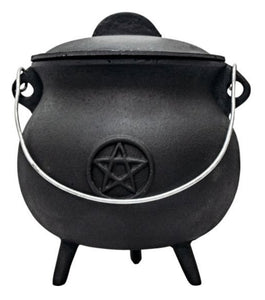 Cauldrons can be used to burn incense, resin, herbs, and candles.  They can also be used as an offering bowl or meditation or divination tool.  Cast iron cauldrons are exceptionally durable.
Typically cauldrons represents the element of Water on the altar. Cauldrons are feminine and womblike, the vessel in which life begins. 
Symbol: The pentacle is a symbol of protection. Most religions on Earth attributes special powers to number 5, which represents the human body, 5 senses, 5 elements, 5 pillars etc. There are also 5 virtues, Love, Wisdom, Truth, Kindness, Justice. It is in the efforts that we make to manifest these 5 virtues that the Divine protection usually attributed to the pentacle becomes effective. Long ago, it was considered by Pythagoreans as a symbol of beauty and harmony.
Includes: Cast iron cauldron, lid and metal handle.
Dimensions:
Weight: 8.60 pounds
Height in Inches: 8.5
Diameter in Inches: 7
PLEASE NOTE: This cauldron does not quality for free shipping due to it's weight.