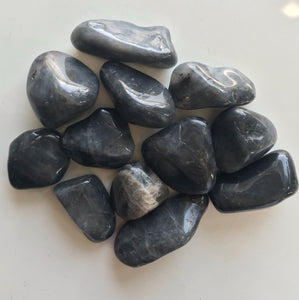 Properties: Cat's Eye imparts generosity, good luck, prosperity, optimism, serenity, and happiness. This protection stone stimulates creativity and kindness.

Chakras: Crown
Zodiac: Capricorn, Taurus, Aries
Planet: N/A
Element: Water
Quantity: 1 tumbled piece. 
Dimensions: Approximately 3cm H x 1.5cm W. Every one is unique and varies in shape, colour, and size.