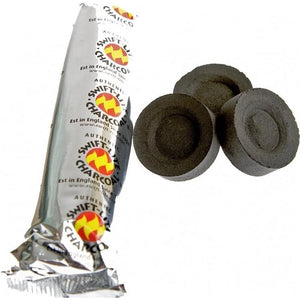 Charcoal Tablets
Regular price
$3.76
$0.00
Unit price
per
Description:
Use these charcoal tablets with your favourite herb blend and resin incenses. This allows one to smudge or burn products for a longer length of time, as most tablets will burn around 40 minutes.  These tablets are high quality, with an even burn without excessive sparks or smoke. 
Use:  Light the edge of the charcoal in a heat safe dish (or smudge pot, or abalone shell with sand).  It will begin to spark a little then fully ignite.  Gently drop on your resin or smudge blend and use a feather to fan the smoke around to cleanse and bless. Then with the tip of the feather you can slide off the burnt out products, and reapply new products.
Caution: These tablets get extremely hot so please use caution.  Best to extinguish with water before disposal. Never leave unattended, never touch with your hands after lit.
Includes: 1 pack of 10 charcoal tablets
---
Share this Product
---