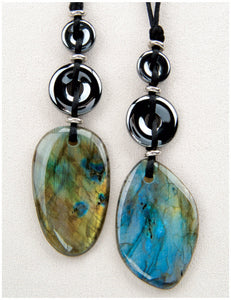 Description: The beautiful stone is found in Labrador, Canada, as well as in Madagascar. The labradorescence, or flash, shows peacock blues, greens, golds and coppery reds. In the lore of the inuit peoples, Labradorite is said to have fallen from the Aurora Borealis. It helps those seeking knowledge and guidance. 
Quantity: One black cord necklace with a hanging pendant. Packaged nicely with a description card.
Dimensions: 15 Inch cord. Pendent is approximately 6cm H x 2cm W. Every one is unique and varies in shape, colour, and size.