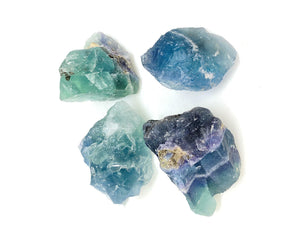 Properties: Green & Purple Mixed Fluorite. Fluorite is an excellent learning aid. It increases focus, concentration and aptitude. Stone of mental achievement, helps absorb new information and work through complex issues. Increases intuition through discernment.
Chakras: Heart, Throat, Third Eye
Zodiac: Capricorn, Pisces
Planet: Neptune
Element: Air, Water
Quantity: 1 raw piece. 
Dimensions: Approximately 4cm H x 4cm W. Every one is unique and varies in shape, colour, and size.