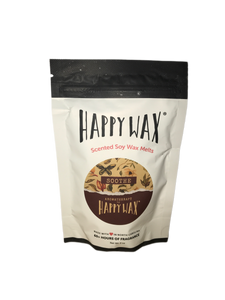 Description: 
This wax melt is made up of all natural ingredients with
no parabens or phthalates. The
 soy wax is infused with essential oils providing a 
concentrated scent that is designed to last longer. 
This wax melt contains patchouli blends which work in sync with soft, creamy vanilla that is sure to bring a soothing atmosphere to any room it is melted in.
Quantity: One 2 oz. package. Each Happy Wax Melt Pouch contains approximately 16 scented soy wax melts, that yield over 60 hours of fragrance!
Dimensions: 5.5'' X 3.5 ''