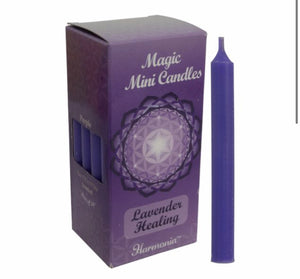 Use:  Mini ritual spell candles are used for manifesting and to offer blessings during your rituals. These scented candles embody essence based off their colour and fragrance.
Colour & Fragrance:
Purple - Intuitive Insights, Divination, Healing.
Lavender - Anxiety, insomnia, depression, and restlessness.
Quantity: 1 pack of 20 Mini Ritual Candles
Size: Each candle is 4" x 0.50"

Burn Time: Approximately 2 hours each.