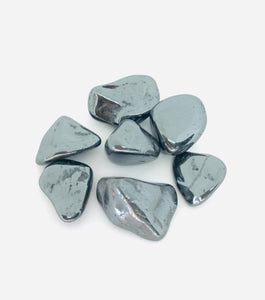 Properties: Hematite is a grounding stone. Helps when feeling confused or overwhelmed. Detoxifying. Can help alleviate pain and transform negativity. 
Chakras: Root 
Zodiac: Aries, Aquarius
Planet: Mars
Element: Fire, Earth
Quantity: 1 tumbled piece. 
Dimensions: Approximately 1.5cm H x 2cm W. Every one is unique and varies in shape, colour, and size.