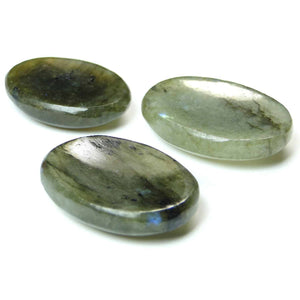 Thumb stones have an indent in them for one to gently rub and release all their worries, hence also commonly called "Worry Stones".
Properties: Labradorite treats disorders of the eyes and brain, stimulates mental acuity, and relieves anxiety and stress. It regulates metabolism, balances hormones and relieves menstrual tension. Labradorite treats colds, gout, and rheumatism, lowers blood pressure, and aids in digestion.
Chakras: Third eye, Throat, Heart, Crown
Zodiac: Scorpio, Sagittarius, Leo
Planet: Uranus
Element: Water
Quantity: 1 Labradorite Worry/Thumb Stone
Dimensions: Approximately 1.5 H x 1.2" W. Every one is unique and varies in shape, colour, and size.