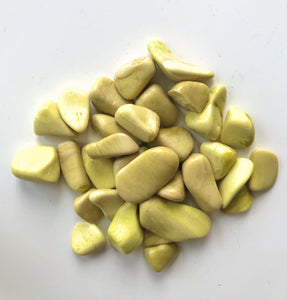 Properties: Serpentine is a good stone for meditation and is said to be valuable in opening psychic abilities. It is also believed to have cleansing and detoxifying properties. It is a useful stone for healers as it helps direct healing energy to where it is needed.
Chakras: Crown
Zodiac: Gemini
Planet: Earth
Element: Earth, Air
Quantity: 1 tumbled Lemon Serpentine piece
Dimensions: 1.8cm H x 2.8cm W. Each piece is unique in size and shape.