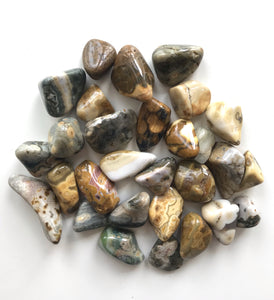 Properties: Ocean Jasper aspires to relieve our stress and tension while uplifting feelings of relaxation reminding us we are safe and protected. Ocean Jasper inspires feelings of joy by aiding the release of negative emotions and thought patterns. It aids with motivation, peace of mind, and physical healing.
Chakras: Throat, Heart, & Solar Plexus
Zodiac: Capricorn
Planet: Earth
Element: Water & Earth
Quantity: 1 tumbled Ocean Jasper piece
Dimensions: Approximately 1.9cm H x 2.7cm W. Every one is unique and varies in shape and size.