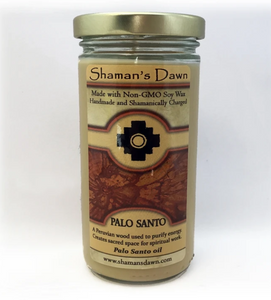 Soy wax intention candle for relaxation, calming the mind, and emotional healing. Free of genetically modified materials.
Made with Essential Oils of: Palo Santo
Scent: A warm woody and smokey scent with hints of sandalwood, frankincense, and spice
Color: Tan
Use for: 

Palo Santo is a sacred wood that is used in shamanic ceremonies in Peru. Only the branches that naturally fall from the trees are harvested. It has a smokey, woody, and slightly spicy scent. Use this candle to purify energy in a space. 
Hand made with non-GMO Soy Wax and shamanically charged with prayer and intention
Shamans Dawn jar candles are hand made, contain essential oils, and are energetically charged with their healing intentions. This is done through prayer and shamanic ceremony to ask for the aid of helping spirits. Light a candle and set your intention or prayer to help manifest changes in your life. Each candle is labeled with a shamanic healing symbol that embodies the healing intentions of the candles.
Glass jars are 5

 

inches tall and 2.25

 

inches in diameter and 8oz in volume

Non-GMO Soy Wax, Lead free cotton wicks, essential oils and fragrance oils

Burn Time: approx 50 hours

 Hand poured with non-GMO soy wax to encourage sustainable and environmentally conscious alternatives for candles.