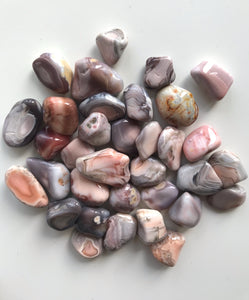 Properties: Botswana Agate is a comfort stone, beneficial in overcoming depression, and strengthening during a grieving process. It helps alleviate anxiety, destructive mental patterns, and assists in overcoming fears.
Chakras: Heart
Zodiac: Gemini
Planet: Mercury
Element: Fire
Quantity: 1 tumbled piece. 
Dimensions: Approximately 2cm H x 1cm W. Every one is unique and varies in shape, colour, and size.