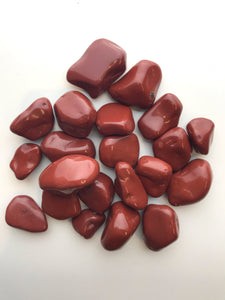 Properties: Red Jasper is said to increase emotional stamina, self confidence, self-trust, emotional protection, courage, balance, calm and relaxation. Red Jasper can also be used for increasing memory of dreams and also increasing sexual vibrancy. How To Use: There are many ways to use crystals for healing and energy treatments.
Chakras: Root
Zodiac: Leo. Virgo, Scorpio
Planet: Mars
Element: Fire
Quantity: 1 tumbled piece. 
Dimensions: Approximately 3cm H x 2cm W. Every one is unique and varies in shape, colour, and size.