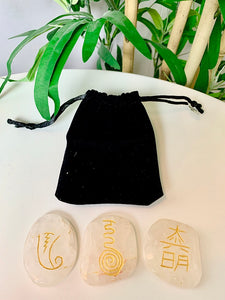 Description:
Rose Quart Reiki Master Set to use during Reiki Healing. Rose Quartz represents universal love. It is the stone of gentleness, love, romance, trust and harmony.
Quantity: 1 set (three Rose Quartz flat stones engraved with pouch)
Size: 35 to 45 mm Approx.
Please Note: Pouches are handmade and may vary. Tumbled stones will vary in size, shape and pigment as all gemstones are unique.
.