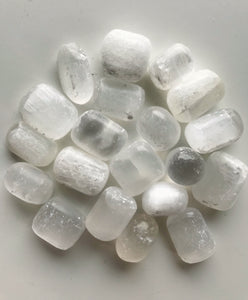 Properties: Selenite connects you to the Divine. Clears negativity in your energy field, the environment and cleanses other crystals in it's vicinity. It is known as a stone for purification, serenity, and peace.
Chakras: Crown Chakra
Zodiac: Taurus, Gemini, Cancer
Planet: Moon
Element: Air
Quantity: 1 Selenite Tumbled 
Dimensions: Approx. 2cm x 2cm  Each piece is unique and varies in shape and size.
Weight: Approx. 11 grams