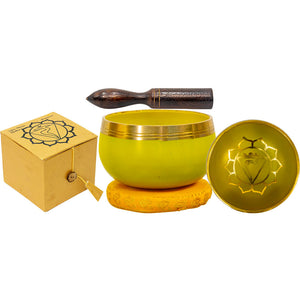 This set includes a singing bowl, baton and pillow base, all inside a beautiful satin keepsake gift box. The tune of this singing bowl is catered to the Solar Plexus (Yellow) Chakra.

Singing bowls are effective for clearing spaces, negative energies as well as cleansing crystals. The colour yellow corresponds to the solar plexus chakra.

Size: Box measures 4.5" x 4.5" x 2.5". Singing Bowl itself is 3" across and 1.5" tall.