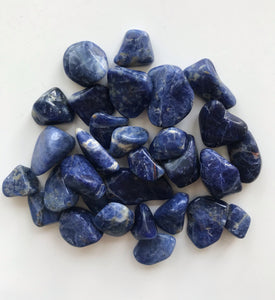 Properties: Sodalite brings order and calmness to the mind. It encourages rational thought, objectivity, truth and intuition, and enhances self-esteem, self-acceptance and self-trust. It is known as a stone for psychic abilities, angel communication, clairvoyance, and meditation.
Chakras: Throat & Third Eye
Zodiac: Sagittarius
Planet: Venus
Element: Wind
Quantity: 1 tumbled large Sodalite piece
Dimensions: Approximately 1.5cm H x 2cm W. Every one is unique and varies in shape and size.