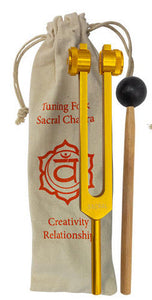 Tuning forks are precise instruments which produce notes, plus harmonics and overtones at a specific frequency. This tuning fork is designed to help with your Solar Plexus  Chakra. This chakra provides a source of personal power and relates to self-esteem, warrior energy, and the power of transformation.
Dimensions: 8.5" L x 3.5" W
Quantity: 1 Yellow Solar Plexus Chakra Tuning Fork, 1 mallet, and 1 carrying bag.