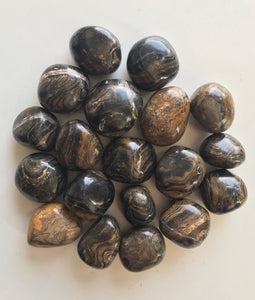 Properties: Stromatolite is a stone of transformation assisting healing at an emotional level. Stromatolite gently removes blockages within the meridians and chakra. Good for meditation and teaching the purpose of life on Earth and our part in it.
Chakras: Root
Zodiac: Pisces
Planet: Earth
Element: Earth
Quantity: 1 tumbled piece. 
Dimensions: Approximately 2cm H x 2cm W. Every one is unique and varies in shape, colour, and size.