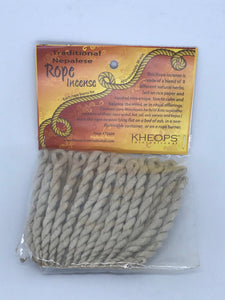 This rope incense is made of a blend of 8 different natural herbs, laid on rice paper and twisted into a rope. Use to calm and balance the mind, or in ritual offerings.
Burn the rope incense lying flat on a bed of ash, in a non-flammable container, or on a rope burner.
Contains: 25 Pure Himalayan herbs of Asta sugandha: a mixture of dhupi, agur, gokul, kut, sal, usir, yaryar, and kapur.