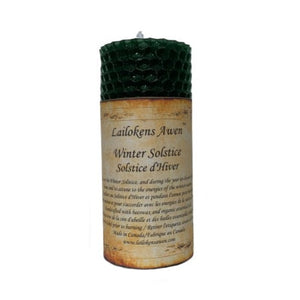 Beeswax Candle - Winter Solstice
Regular price
$11.24
$0.00
Unit price
per
Dark green beeswax pillar candle anointed with Winter Solstice Anointing Oil.
How to use: Use on the Winter Solstice, and during the year to cleanse your home and to attune to the energies of the winter season, the reborn Sun, and for new beginnings. Made on the day of the Winter Solstice.
Beeswax candles are an all natural way to emit a bright, healthful light in the same spectrum as the sun. As the candle burns it releases negative ions that clean the air and energize the body. Beeswax is also known to burn longer, drip less, and has a great fragrance.
Quantity: 1 Winter Solstice Altar Candle
Dimensions: 4" x 1 3/4"
---
Share this Product
---